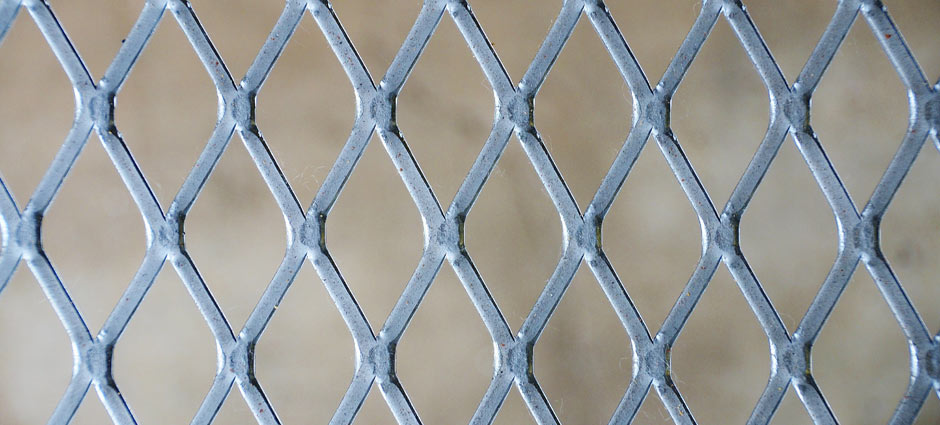 We offer a complete range of regular and fattened pattern expanded metal on request.
Please click any of the below sections and explore the wide range and the technical specifications of the inventory of our expanded metal. In case you will not find the desired product or dimension of the existing one, please contact our representatives and they are going to find the products in the necessary dimensions for you.
The expanded metals are very versatile products. Ferrous and non-ferrous metal sheet can be expanded into a wide range of mesh styles. There are standard expanded metal styles and numerous variations in strand width and opening sizes can be produced to create whatever architectural or industrial pattern is required. Expanded metal is also produced in a flattened form which is created by rolling standard or raised expanded metal.
Expanded Metals - Raised
| wdt_ID | STYLE | Lb per 100 ft2 | Design Size: SWD, inches | Design Size: LWD, inches | Opening Size: SWD, inches | Opening Size: LWD, inches | Strand Width, inches | Strand Thickness, inches | Overall Thickness, inches | Open Area % |
| --- | --- | --- | --- | --- | --- | --- | --- | --- | --- | --- |
| 1 | 3/32" - #24L | 42 | 0.156 | 0.250 | 0.094 | 0.156 | 0.030 | 0.024 | 0.045 | 58 |
| 2 | 3/32" - #24H | 63 | 0.156 | 0.250 | 0.063 | 0.156 | 0.045 | 0.024 | 0.055 | 37 |
| 3 | 3/16" - #22 | 56 | 0.203 | 0.500 | 0.110 | 0.313 | 0.047 | 0.030 | 0.070 | 55 |
| 4 | 3/16" - #20 | 90 | 0.203 | 0.500 | 0.080 | 0.313 | 0.063 | 0.036 | 0.080 | 40 |
| 5 | 1/4" - #20 | 86 | 0.250 | 1.000 | 0.125 | 0.718 | 0.072 | 0.036 | 0.135 | 45 |
| 6 | 1/4" - #18 | 114 | 0.250 | 1.000 | 0.110 | 0.718 | 0.072 | 0.048 | 0.147 | 43 |
| 7 | 5/16" - #20 | 57 | 0.333 | 1.000 | 0.250 | 0.750 | 0.063 | 0.036 | 0.125 | 60 |
| 8 | 5/16" - #18 | 104 | 0.333 | 1.000 | 0.188 | 0.688 | 0.094 | 0.048 | 0.170 | 48 |
| 9 | | | | | | | | | | |
| 10 | 1/2" - #20 | 43 | 0.500 | 1.200 | 0.438 | 0.938 | 0.072 | 0.036 | 0.036 | 80 |
| | STYLE | Lb per 100 ft2 | Design Size: SWD, inches | Design Size: LWD, inches | Opening Size: SWD, inches | Opening Size: LWD, inches | Strand Width, inches | Strand Thickness, inches | Overall Thickness, inches | Open Area % |
Expanded Metals - Flattened
| wdt_ID | STYLE | Lb per 100 ft2 | Design Size: SWD, inches | Design Size: LWD, inches | Opening Size: SWD, inches | Opening Size: LWD, inches | Strand Width, inches | Strand Thickness, inches | Overall Thickness, inches | Open Area % |
| --- | --- | --- | --- | --- | --- | --- | --- | --- | --- | --- |
| 1 | 3/16" - #22F | 72 | 0.218 | 0.500 | 0.094 | 0.343 | 0.063 | 0.027 | 0.027 | 43 |
| 2 | 3/16" - #20F | 86 | 0.218 | 0.500 | 0.094 | 0.343 | 0.063 | 0.032 | 0.032 | 43 |
| 3 | | | | | | | | | | |
| 4 | 1/4" - #20F | 88 | 0.312 | 1.000 | 0.156 | 0.625 | 0.079 | 0.030 | 0.030 | 35 |
| 5 | 1/4" - #18F | 108 | 0.312 | 1.000 | 0.156 | 0.625 | 0.080 | 0.040 | 0.040 | 35 |
| 6 | | | | | | | | | | |
| 7 | 5/16" - #20F | 54 | 0.375 | 0.750 | 0.241 | 0.563 | 0.075 | 0.032 | 0.032 | 60 |
| 8 | 5/16" - #18F | 95 | 0.375 | 0.750 | 0.191 | 0.563 | 0.099 | 0.040 | 0.040 | 45 |
| 9 | | | | | | | | | | |
| 10 | 1/2" - #20F | 40 | 0.593 | 1.200 | 0.435 | 0.938 | 0.079 | 0.029 | 0.029 | 65 |
| | STYLE | Lb per 100 ft2 | Design Size: SWD, inches | Design Size: LWD, inches | Opening Size: SWD, inches | Opening Size: LWD, inches | Strand Width, inches | Strand Thickness, inches | Overall Thickness, inches | Open Area % |
Expanded Metals - Structural Grating
| wdt_ID | STYLE | STD. -Lb per 100 ft2 | GALV. -Lb per 100 ft2 | Design Size: SWD, inches | Design Size: LWD, inches | Opening Size: SWD, inches | Opening Size: LWD, inches | Strand Width, inches | Strand Thickness, inches | Overall Thickness, inches | No. of designs per Ft: SWD | No. of Designs per Ft: LWD | Open Area % |
| --- | --- | --- | --- | --- | --- | --- | --- | --- | --- | --- | --- | --- | --- |
| 1 | 2.00 lb | 2.00 | 2.10 | 1.33 | 5.33 | 1.000 | 3.44 | 0.267 | 0.120 | 0.460 | 9.0 | 2.25 | 77 |
| 2 | 3.00 lb | 3.00 | 3.15 | 1.33 | 5.33 | 0.940 | 3.44 | 0.264 | 0.183 | 0.540 | 9.0 | 2.25 | 60 |
| 3 | 3.14 lb | 3.14 | 3.30 | 2.00 | 6.00 | 1.625 | 4.88 | 0.312 | 0.250 | 0.656 | 6.0 | 2.00 | 69 |
| 4 | 4.00 lb | 4.00 | 4.18 | 1.33 | 5.33 | 0.940 | 3.44 | 0.300 | 0.215 | 0.618 | 9.0 | 2.25 | 55 |
| 5 | 4.27 lb | 4.27 | 4.46 | 1.41 | 4.00 | 1.000 | 2.88 | 0.300 | 0.250 | 0.625 | 8.5 | 3.00 | 58 |
| 6 | 5.00 lb | 5.00 | 5.20 | 1.33 | 5.33 | 0.813 | 3.38 | 0.331 | 0.250 | 0.655 | 9.0 | 2.25 | 50 |
| 7 | 6.25 lb | 6.25 | 6.47 | 1.41 | 5.33 | 0.813 | 3.38 | 0.350 | 0.312 | 0.715 | 8.5 | 2.25 | 50 |
| 8 | 7.00 lb | 7.00 | 7.25 | 1.41 | 5.33 | 0.813 | 3.38 | 0.391 | 0.312 | 0.740 | 8.5 | 2.25 | 45 |
| 9 | 10.00 lb | 10.00 | | 1.41 | 5.33 | 0.533 | 3.20 | 0.560 | 0.312 | 0.855 | 8.5 | 2.25 | 21 |
| | STYLE | STD. -Lb per 100 ft2 | GALV. -Lb per 100 ft2 | Design Size: SWD, inches | Design Size: LWD, inches | Opening Size: SWD, inches | Opening Size: LWD, inches | Strand Width, inches | Strand Thickness, inches | Overall Thickness, inches | No. of designs per Ft: SWD | No. of Designs per Ft: LWD | Open Area % |